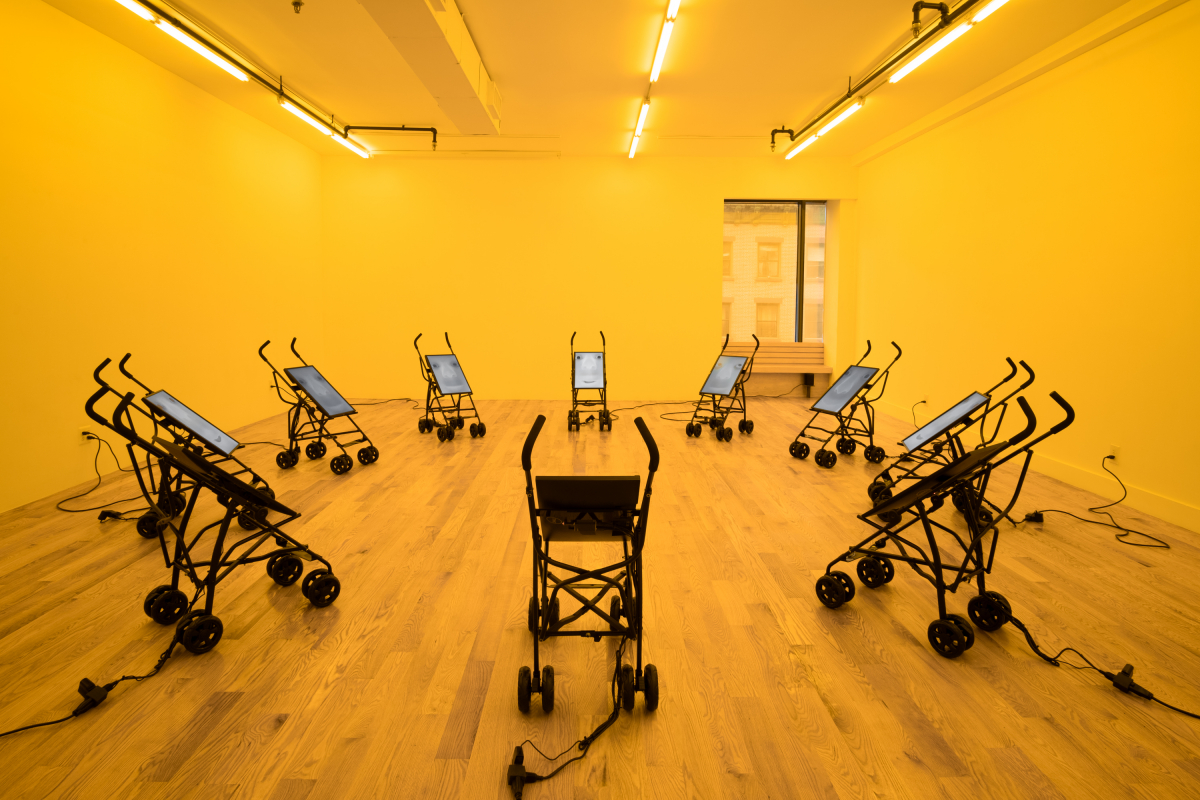 Dawn Chorus: Beta by Danish artist Stine Deja addresses the artist's ethical and existential interest in the consequences of transhumanist and cryogenic technologies, this site-specific, multi-media installation with surreal, immersive soundscape follows Thermal Womb (2020) and Cold Sleep (2021) in seeking to address the narrowing liminal space between the biological and artificial, between the novel and the naturalized, between the technological and the spiritual.
At once deeply futuristic and riven with the redolent nostalgia of early computer science experimentation, Dawn Chorus: Beta intervenes in the conceits of this transhumanist urge towards eternal life. Transhumanism consists of a philosophical and intellectual movement in the transition of humankind, via the emergence and biological integration of new technologies, towards a post-human future in the aftermath of the Anthropocene. First proposed by a professor at the New School, otherwise known as FM-2030, in the 1960s, transhumanism inspired, in the same decade, the practical and capitalistic response to the fundamental limitations of human existence known as cryogenics or cryopreservation: the practice of deep freezing an individual body or parts of a body immediately following the legal declaration of their death in order that the individual might seek reanimation in some distant, uncertain future.
Previously presented in a different iteration at Vestjyllands Kunstpavillon in the artist's native Denmark, Dawn Chorus: Beta confronts the viewer with the scene of an uncanny and disconcerting awakening. Composed of an installation of ten screens each mounted upon ten children's umbrella stroller frames, arranged as islands of calm in a chaotic sea of wires and cords, like prisoners of an ill-conceived technological experiment, Dawn Chorus: Beta presents the viewer with a cacophony of video works portraying digitally-rendered visages, plasticine in appearance, vocalizing in harmony to produce an uncanny soundscape: evocative of both a ceremonial religious choral arrangement and the natural phenomenon of bird song at daybreak. Deja's eerie digital countenances recall their allusion to the encaustic portraits of the deceased found on mummies' sarcophagi from ancient Egypt—also called the Fayum portraits—which as the artist forwards, "allowed the soul to find their body once more." For if Thermal Womb and Cold Sleep addressed the process of cryopreservation in the freezing and storage of the human figures in question, Dawn Chorus: Beta presents the landscape of an aftermath and new beginning: the thawed and reawakened consciousnesses of ten subjects, which the artist presents as the haunting intonations of lost souls, who though they have found their voice, find themselves only disembodied objects in an otherwise chaotic and bleak technological landscape; their corporal forms are now naught but abstract figurations: a thin screen and skeletal stroller frame.
Nonetheless, surreal or grotesque, they sing. Caught between the banal and the transcendent, Stine Deja's figures in Dawn Chorus: Beta hover across a void. Neither entirely born of this world, nor entirely permitted to depart, their reawakening signals as much hope as apocalypse, at the limits of technology, human existence, and some form of beyond.
The exhibition is made possible by the Danish Arts Foundation.
Born in Denmark in 1986, Stine Deja received her MA from Royal College of Art in 2015 and her BA in interaction design from Kolding School of Design in 2012. Deja has exhibited at Vestjyllands Kunstpavillon, Videbaek, Denmark (2021); Tranen, Hellerup, Denmark (2021); KÖNIG GALERIE, Berlin, Germany (2021); HeK Museum, Basel, Switzerland (2020); PERMM Museum of Contemporary Art, Perm, Russia (2020); Somerset House, London, UK (2020); MdbK, Leipzig, Germany (2019); Tranen, Hellerup, Denmark (2019); Schimmel Project, Dresden, Germany (2018); Assembly Point, London, UK (2016); Concrete Lab, Copenhagen, Denmark (2015); Hockney Gallery, London, UK (2015). She is represented in numerous private and public collections, including the ARKEN Museum for Moderne Kunst, Ishøj, and the Danish Arts Foundation, Copenhagen. She lives and works in Copenhagen.