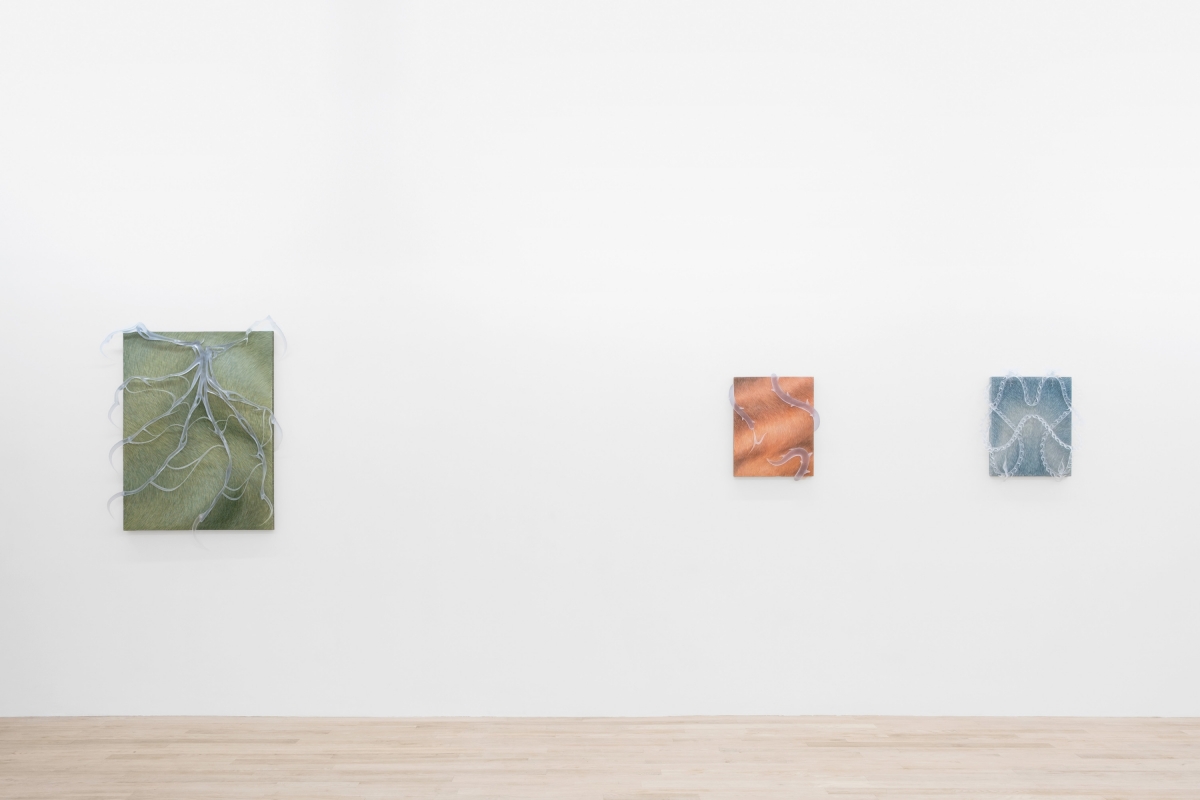 Management is thrilled to present Hosts, Anastasia Komar's first solo show with the gallery. Referencing science, theology, and history, Komar juxtaposes acrylic painting executed in short, vivid, and luminescent brushstrokes with glass polymer sculptures that echo forms at once biomolecular, mythological, and mammalian. Opaque and forgiving substrates rather than unyielding representational planes, the paintings play host to the hybrid, quasi-corporeal sculptures that protrude from the edges and envelop the surface, suggesting a parasitic or symbiotic relationship.
In the seminal work of the series, HeLa, a pastel painting rendered in languid peach and seafoam hues is bound by barbed serpentine translucent bodies terminating in graceful Fritillaria flowers, whose bisected bowls signify a violence and persecution, and subsequent mourning and sorrow. The title references the oldest immortal cell used in scientific research, but the form lends grace to the oft unnamed African American woman, Henrietta Lacks, from whose fatal cancer this cell was derived without consent—a reminder of the historic exploitation of women and minorities in pursuit of scientific breakthroughs.
An essay by Justin Kamp accompanies the exhibition.
Anastasia Komar (b. 1986) is an artist based in New York, with a Master's degree in architecture and environmental design. She has exhibited at the gallery of the School of Visual Arts in New York, the CICA Museum in South Korea, and has executed several site-specific projects in New York and California.