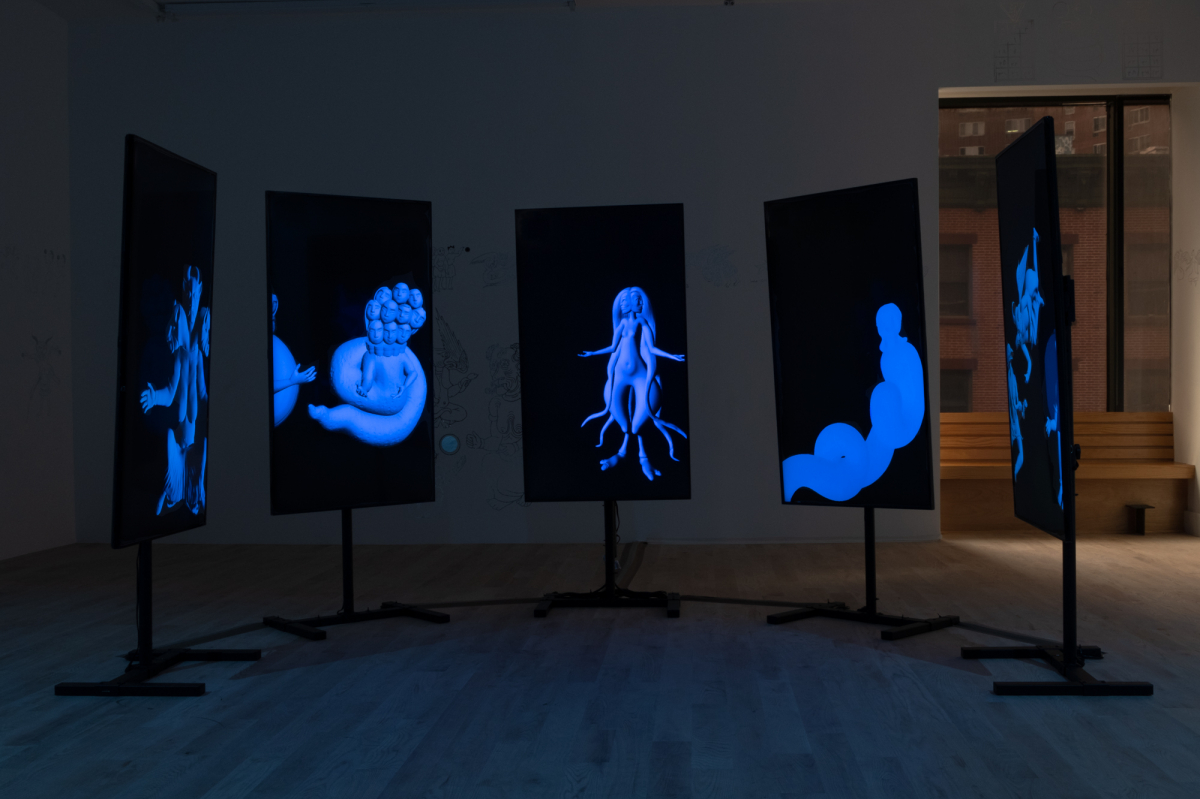 Management is pleased to present the debut exhibition at their new location in New York, MAJLIS AL-JINN by Morehshin Allahyari. The exhibition—which features new video works, 3D-printed sculptures, and a site-specific installation of drawings from archival materials—serves as a briefing of She Who Sees the Unknown (2016–2021), Allahyari's recently-concluded project "re-figuring" the fearsome female/non-binary Jinn figures found in ancient West Asian and Islamic mythology. This marks the first time all elements of the project have been presented together, and the debut of selected materials from the project's archive.
MAJLIS AL-JINN (Arabic: الجن مجلس ,lit. "meeting/gathering place of the Jinn") is comprised of five video works, each focusing on a different jinn figure—Huma, Ya'jooj Ma'jooj, Aisha Qandisha, The Laughing Snake, and Kabous—in symmetrical postures and appearances, eluding the logic of "either/or" in favor of the "neither/nor" of non-binary beings. Whether depicted as monstrous or angelic, animal or human, they queer the authoritative worldings of normative imagination. The video works are accompanied by two mirrored sculptural figures, Qareen and Qareen (Arabic/Farsi: قرين, lit. "constant companion"), who offer blessings of healing and protection to their observers.
Known as a primarily decorative medium in Iran, mirroring (Farsi: آینهکاری ayeneh-kari lit. "mirror-work", or قرینهسازی Qareeneh Sazi lit. "to reverse") is used as an aesthetic revetment in shrines. Mirroring schemas and mirrored-looking sketches furnish the walls of MAJLIS AL-JINN, working in tandem with the symmetry found in the other works in the show to balance order and power. The final component of the exhibition is a site-specific installation of drawings from an annotated and illustrated archive of manuscripts and other sources of Islamic mythologies and the occult sciences, which can be viewed in full at archive.shewhoseestheunknown.com. The exhibition is accompanied by a text by art historian and educator Nima Esmailpour, which can be read here.
Morehshin Allahyari (b. 1985, Tehran) is an artist, activist, writer, and educator. Her work investigates the political, social, and cultural contradictions we currently face, using technology as both a philosophical toolset to reflect on objects and as a poetic means of documentation. Morehshin has been part of numerous exhibitions, festivals, and workshops around the world including the Venice Biennale di Architettura, New Museum, Whitney Museum of American Art, Centre Pompidou, Museum of Contemporary Art in Montreal, Tate Modern, Queens Museum, Pori Museum, Powerhouse Museum, Dallas Museum of Art, and Museum für Angewandte Kunst. She has been an artist in residence at BANFF Centre (2013), Carnegie Mellon University's STUDIO for Creative Inquiry (2015), Autodesk Pier9 Workshop in San Francisco (2015), the Vilém Flusser Residency Program for Artistic Research in association with Transmediale, Berlin (2016), Eyebeam's one year Research Residency (2016-2017) in NYC, Pioneer Works (2018), and Harvest Works (2018). She is the recipient of The United States Artist Fellowship (2021), The Joan Mitchell Foundation Painters & Sculptors Grant (2019), the Sundance Institute New Frontier International Fellowship, and the Leading Global Thinkers of 2016 award by Foreign Policy magazine. Her 3D Additivist Manifesto video is in the collection of San Francisco Museum of Modern Art, and recently she has been awarded major commissions by The Shed, Rhizome, New Museum, Whitney Museum of American Art, Liverpool Biennale, and FACT.