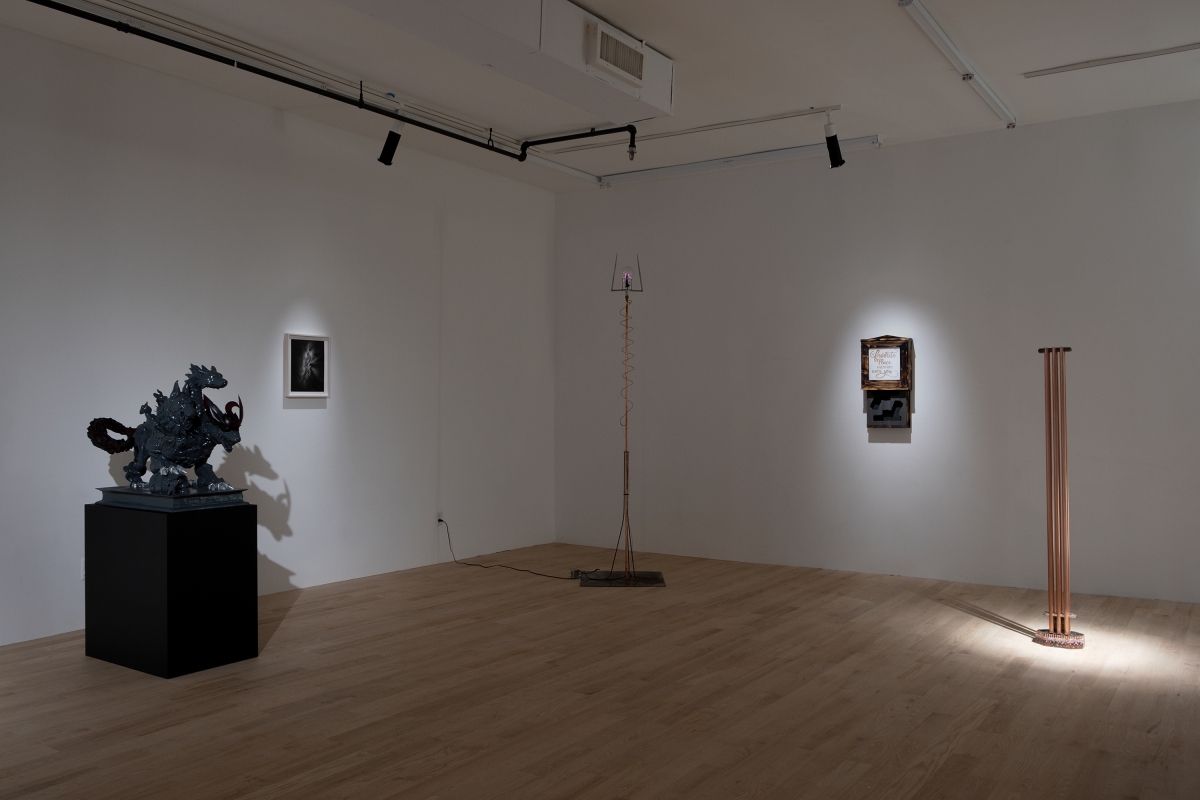 Fires continue to scorch the farthest corners of the land, and periodically thick smoke blocks out daylight entirely. An endlessly mutating pathogen has infected the masses many times over. Money has lost nearly all of its value, and out of desperation, everyday citizens have returned to the barter system. Despite overwhelming malaise, The City and its inhabitants are increasingly hollow and complacent, barely able to emote or even to speak. Our personal surveillance devices stopped listening long ago, there's nothing left to extract. This era of frightful numbness has been going on for as long as anyone can remember. End times are no longer thought of as a single moment in the distant future, but are instead widely recognized as a continuous state of being.
World leaders in commerce and in government have unveiled a new cellular network that promises to make our indentured productivity just that little bit faster. An aging cabal of freethinkers believes the new frequency has the potential to disturb ions in our bodies' cells. In response, a grassroots movement quickly organized and instructions on building cloudbusters are now frequently swapped on encrypted forums. Fused in just the right way quartz, resin, and conductive copper rods are said to scatter any harmful rays. Although these solutions may be futile, many see no alternative but to take individual safety into their own hands.
- - -
An outrageous, exclusive Party has been going on ceaselessly for many years. The gathering takes place in a beige, windowless skyscraper downtown, rumored to have formerly housed a data center for a major cell phone company. No one really knows when or how The Party first started. On one day of the year, a select few are allowed to enter and to revel, with many remaining inside for several months at a time. You left (were kicked out of) The Party years ago, but you're still looking for your next fix. Just thinking about it, you can feel your heart start to thump in your chest and become aware of the neurotoxins ever-present in your bloodstream. Or is it just the EDM, still stuck in your head?
Prowling the streets, you stop at a ruby red gate left ajar by The Party's entrance. As if in a fever dream, the gate is guarded by a band of menacing imps and Cerberus saunters over, ridiculing you with an overused line from Dante: "abandon hope all ye who enter here". The three-headed dog bares its teeth coyly – tonight is not yours, and besides, whatever was behind the gate has already been unleashed. You're reminded of big-dog-privilege, and the safety that has been granted to those who've been able to befriend such rabid beasts as these. Stumbling backward, you drop your keys into a sewer grate. As if to mock you, a glowing Key to The City appears hovering madly above the sidewalk, always mere inches out of your reach.
As you continue to wander anxiously through the night, the power suddenly goes out and street lights fade one by one into blackness. A lone plasma ball atop a stainless steel tower illuminates the empty sidewalk, and electricity is made visible through its sporadic tendrils. The only barrier between your body and the tower's lethal voltage is a thin layer of insulation. Tiny blinking LEDs indicate atmospheric pressure, and you're thankful for tonight's mild air conditions. Desperate for a safe place to rest, you break into an abandoned '79 Ford parked in a back alley and sleep for a while. Practicing mindfulness you learned from a popular self-help book, you express gratitude to the vehicle for protecting you through the night. "Thank you, Ford. When we have each other we have everything." The windshield wiper motor is dangling from Ford's hood, and you take it from him as a keepsake. The motor now powers a small fan you've been tinkering with to deal with the unrelenting heat, and the contraption serves as a reminder that although danger is a constant, refuge can always be forged.
– Moira Sims, 2022
Genevieve Goffman (b. 1991, Washington, D.C.) based in Brooklyn, NY. Her work focuses on utopic thinking, the memories and potential futures of communism, the intersection of technology, class, and luxury, and the history of nuclear science and radiation. Goffman earned her MFA in sculpture from Yale in 2020. Recent solo exhibitions include Redwall, But For Your Dead Pets Only, Catbox Contemporary, Queens, NY, 2019; Hotel Heaven, Lubov, New York, NY, 2019; she has also show work with Gallery 102 in Berlin, EXILE in Vienna, Austria, and Workroom.Daipyat in Voronezh, Russia.
Clare Koury (b. 1993, Kentucky) based in New York. Koury holds an MFA from Columbia University (2020), and a BA from the University of Chicago (2015). Koury's work has been included in exhibitions in New York, Chicago, and London, as well as presented at The Jewish Museum, New York, 2019; The Fireplace Project, East Hampton, NY, 2019; and online via Steve Turner, Los Angeles, CA, 2020.
Rachel Rosheger (b.1994, Texas) is an artist based in New York whose work interweaves electronics with physical materials. She often uses various earth systems, such as weather or geology, as points of departure to explore current technological and cultural landscapes. Her work has been previously exhibited at Mery Gates, Rhizome Parking Garage, and 41 Cooper Square (Benjamin Menschel Fellowship Exhibition), among others. Screenings include at Anthology Film Archives and Microscope Gallery, among others. Rachel Roscheger graduated with a BFA from Cooper Union School of Art in 2017 and is a recipient of the 2018 Benjamin Menschel Fellowship.