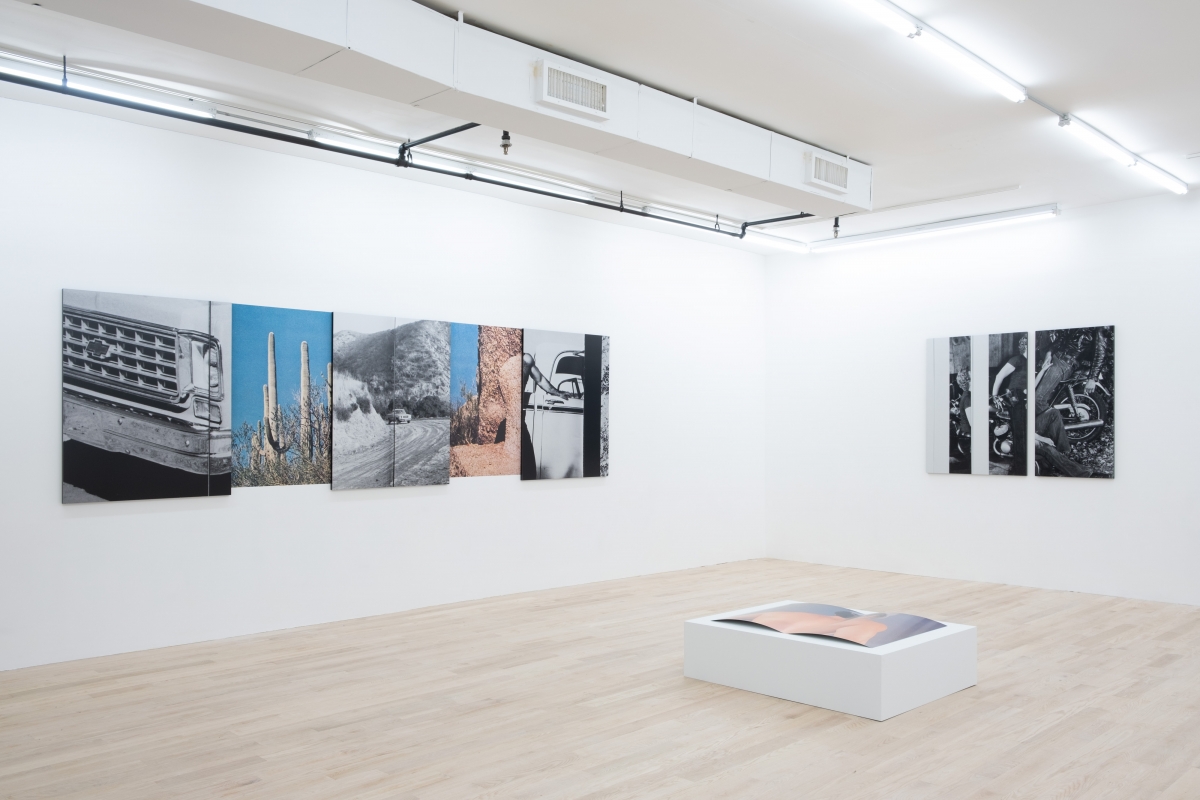 Management and Rubber Factory are pleased to present a joint exhibition of a new body of work by Pacifico Silano, If You Gotta Hurt Somebody, Please Hurt Me, taking place simultaneously over both sites on New York's Lower East Side. The show's title refers to a song by the 1960s girl group The Crystals, which while melodious and sweet on the surface, reveals something more sinister upon closer attention. Likewise, designed to seduce as much as repel, Silano's most recent body of work seeks to address the menace of violence beneath the cool façade of white American queer desire. These new works interrogate a history of toxic masculinity fetishized by gay men.
Working between archive and appropriation, Silano uses photography as a tool for the re-examination and re-contextualization of queer visual culture and desire from the 1970s and 1980s. These new works reveal profound psychological violence latent in their original source material. These surreal, masochistic fantasies take on a darker meaning when read through a contemporary lens. Conceptually, Silano's oeuvre weaponizes scale and fragmentation of the male body as part of a visual strategy that reveals a system of queer codes embedded in white America's subconscious. Systems of reproduction from fashion to automobiles become visual codas under Silano's lens, questioning the iconic substance of blue jeans or the masculine trope of the automobile. Silano ruptures the format of the archive he draws from, producing ovals and mirror-length pieces, as well as a draped silk print and a steel sculpture simulating a magazine spread, fragile or enduringly hard membranes for the fraught lives depicted.
Like Gilles Deleuze's drive-image, these fragmentary citations thinly veil a pulsating violence, pushed ever off-screen, beneath the static photograph. Working previously with archival material on the subject of the absence of the body in relation to HIV/AIDS, this new body of work reveals a profound turn away from personal narrative, nostalgia, or longing towards a menacing indictment of fetishization of violence, power, and pain, which the artist perceives throughout contemporary white America.
Pacifico Silano is a lens-based artist whose work is an exploration of print culture, the circulation of imagery, and LGBTQ identity. Born in Brooklyn, NY, he received his MFA in Photography from the School of Visual Arts. His work has been exhibited in group shows, including at the Bronx Museum, Tacoma Art Museum, Museo Universitario del Chopo, Mexico City, and The Andy Warhol Museum in Pittsburgh, Pennsylvania. He has had solo shows at Houston Center for Photography, Baxter ST@CCNY, Rubber-Factory, Stellar Projects, Light Work, Melanie Flood Projects, and Fragment Gallery in Moscow, Russia. Reviews of his work have appeared in The New Yorker, Artforum, and The Washington Post. Awards include the Aaron Siskind Foundation Fellowship, NYFA Fellowship in Photography, being a Finalist for the Aperture Foundation Portfolio Prize, and being shortlisted for the Paris Photo/Aperture First Book Prize. His work is in the permanent collection of the Museum of Modern Art.