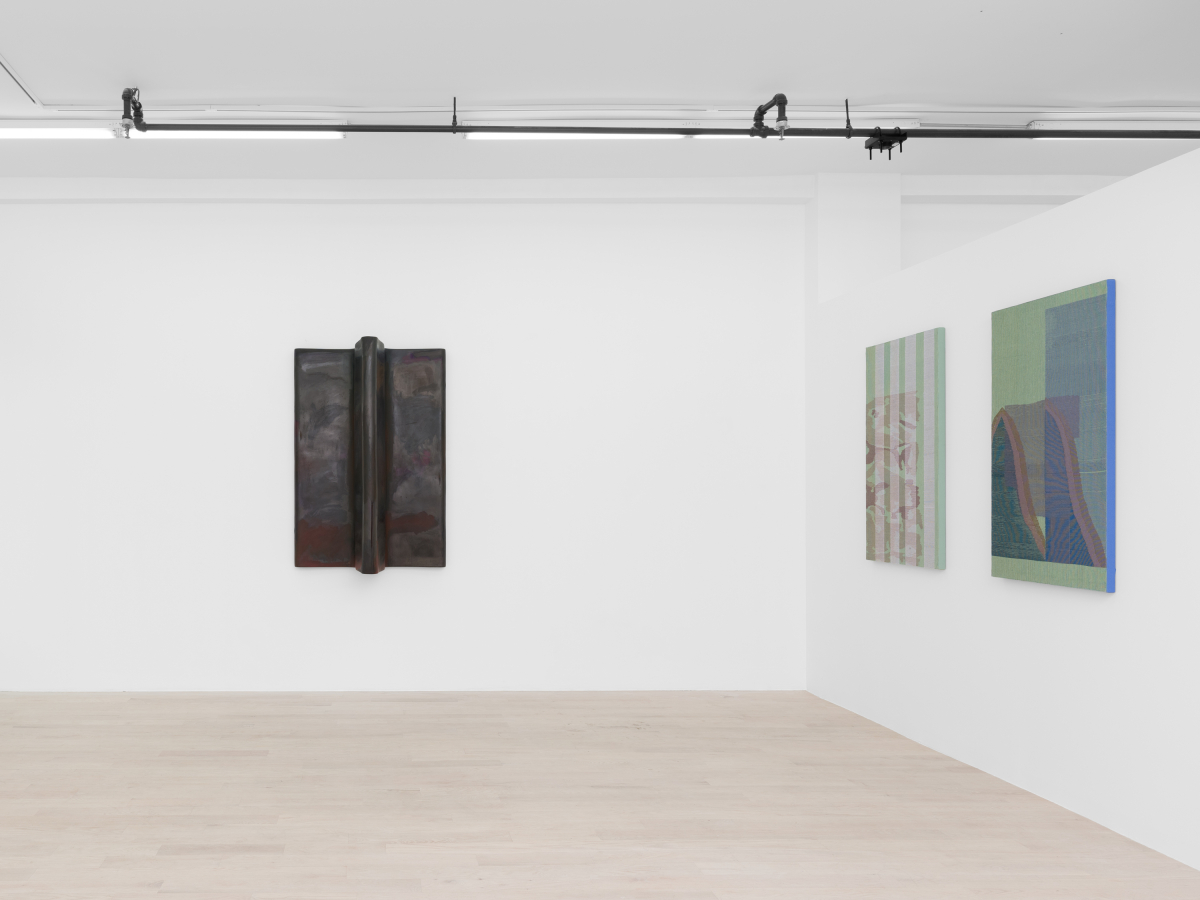 Management is pleased to present The Third Kind, an exhibition curated by Lola Kramer and Loup Sarion, featuring the work of Megumi Shauna Arai, Charlotte vander Borght, Catharine Czudej, Miranda Fengyuan Zhang, Myranda Gillies, Aislinn McNamara, and Eric Oglander.
Neither distinctly painting nor sculpture, most of the works in this show come into being through a dedication to the object and its physicality. In response to the panorama of recent art heavily relying on image-making, this show seeks to reassess the place of material, craft, and form. There is boundless freedom in breaking away from the culture of the screen, and each of these artists has found new paths working from a pure, tangible desire intensely rooted in material. Emerging through various approaches, ranging from weaving to carpentry, casting, hand-stitching, and even alchemy: all of the work is made by artists living in New York City.
Several artists are breathing new life into natural materials. Aislinn McNamara's wall-mounted nylon reliefs are meticulously stitched and stretched over metal armatures, creating intricate cavities. Their undulating surfaces are coated with layers of pigments, including shades like "severed-head red" and "Francis Bacon cobalt," which the artist sourced during her travels near the ruins of Herculaneum. The work is as inspired by ancient civilizations as it is by visualizing the gurgling, sputtering, and sucking sounds of a volcano or a "minor-key shriek" in a Coltrane composition. An impulse to record the natural world reverberates nearby in the alchemical reliefs of Catharine Czudej, created by dipping an aluminum frame into a vat of liquid Bismuth, an element used in Pepto-Bismol and eyeshadow. It emerges transformed, its iridescent crystalline surface responding to the precise conditions it is born into.
Many of these artworks engage the formal language of painting, as seen in the fiber-based experiments of Myranda Gillies, the hand-woven textiles of Miranda Fengyuan Zhang, or Megumi Shauna Arai's gestural めぐりあい I (Encounter I), constructed by stitching hand-dyed silk soaked in walnut and variations of logwood, pinned in a windswept motion. Appearing frozen in time, it serves as a reminder that the dynamics of power and submission, identity, and the essence of the human experience do not wholly rely on its explicit representation.1 A different engagement with the history of painting is present in a new three-dimensional series by Charlotte vander Borght. Cast from scuffed subway seats that have fallen into disuse, they are inverted and treated like a canvas, made obscene, even debased. Giving the impression of peeling off the wall, their relationship to the body falls further into abstraction.
Recently, Eric Oglander, a naturalist and avid collector of folk art, asked ChatGPT how it would make the minimal handmade "objects of happenstance" that line the shelves in his studio. It got close. He fed the software a set of familiar materials: striped blue fabric, branches, plywood, and white paint. Whether this hypothetical artwork would contain the auratic touch of a fisherman with an eye for accidental souvenirs is hard to say. I would like to think the rippling moiré effect produced in Crop Circles is more like the construction of a song. "Songs arise out of suffering," wrote Nick Cave in a blog post last January, "by which I mean they are predicated upon the complex, internal human struggle of creation and, well, as far as I know, algorithms don't feel." To that end – how can the material experience of the art object, and the finesse that brings it to life, reaffirm a relation to the physical, irreplaceable essence of human creativity? If society's ongoing inclination is to reproduce representations of our everyday life through computation, perhaps it is time to reconsider the place of craft and material within contemporary art.
— Lola Kramer
1 Drawing on ideas expressed by Adrian Piper in her contribution to "Louise Bourgeois: the Locus of Memory, Works 1982-1993," edited by Joanna Ekman, 79. Corcoran Gallery of Art, 1994.
Lola Kramer (b. 1990, Los Angeles, California) is a curator, writer, and editor based in New York City. She was the curator of Liz Magic Laser's Frieze Project at Frieze New York 2023, and is known for her essays, profiles, and interviews with pioneers of creative disciplines. She was the curator of 7 Gardens, a public art exhibition throughout the community gardens in the Lower East Side, conceived with Joseph Ian Henrikson as a journey connecting local community space to the practices of established and emerging artists working to represent ideas of nature and community engagement. She was recently selected by Cultured magazine as one of 8 young curators to watch and a leading expert and advocate for the next generation of artists and change-makers. Kramer's writing has been featured in numerous publications, including the Whitney Biennial Catalogue, Frieze, Interview, CURA, and Kaleidoscope, as well as monographs published by MACK, Phaidon, and Rizzoli.
Loup Sarion (b. 1987, Toulouse, France) studied at Beaux-Arts de Paris (2010-2015) and Cooper Union, New York (2013). Recent solo and duo exhibitions include: Saliva, Berthold Pott Gallery, Cologne; Cannibal Canyon, M+B, Los Angeles (w/ Daniel Boccato); Socrates Sculpture Park, New York; Milch in meinen augen, Kunstverein Heppenheim, Germany; Tuff Titties, Sorry We're Closed, Brussels (w/ Al Freeman); Chapo, C L E A R I N G, New York (w/ Harold Ancart); Everybody is somebody's secret, Berthold Pott Gallery, Cologne; Smooth like an alibi, Formatocomodo, Madrid; Langue Pendue, SpazioA, Pistoia, Italy. Recent group exhibitions include: Carl Kostyál, Sweden; Galleria Continua, Les Moulins, France; NOIRE gallery, Torino, Italy; Espace 251 Nord, Liège, Belgium. He was artist-in-residence at International Studio & Curatorial Program, New York, in 2018. In 2021, he founded MARROW, an experimental design project with Rafael Prieto. Loup Sarion lives and works in New York.
Charlotte vander Borght (b. 1988 Belgium) lives and works in Brooklyn, New York. Recent Solo and duo exhibitions include Melody Lanes, Baronian Gallery (2023), Run, River, Galeria Mascota, Mexico City (2022), Affinities in The Ether Wind, New Space, Liège (2021), Shining Flesh— with Loup Sarion, A.D New York, New York (2021), Crooked Positions — with Felix Kindermann, Deborah Bowmann, Brussels (2020), CHAMBRES — with Carlotta Bailly-Borg, curated by Michel François, Island, Brussels (2019), Fly Trap, Project Room WIELS, Brussels (2017). The artist also participated in Local Objects, International Objects, New York (2023), Party in The Blitz, Mamoth Gallery, London (2023), Planes, Trains and Automobiles, Galeria Mascota, Mexico City (2023), Sculpture Garden Geneva Biennale, curated by Devrim Bayar, Geneva (2022), Des choses vraies qui font semblants d'être des faux semblants, curated by Michel François, La Friche, Marseilles (2021) and Centre Wallonie Bruxelles, Paris (2020), Biennale de Saint Paul de Vence (2021), Kunst in Puurs, Puurs (2020), Life Still, CLEARING Gallery, New York (2020), The Secret Life of Lobsters, Knokke-Heist, CLEARING Gallery (2020), Le Petit Cercle Bruxellois, Sculpture Park Domestica, Institut de Carton, Brussels (2019), Fried Patterns, curated by Tenzig Barshee, Brussels Gallery Weekend, Brussels (2019), Dog Days, CLEARING Gallery, New York (2019).
Catharine Czudej (b. 1985 Johannesburg, South Africa) lives and works in New York. Czudej holds a BFA from New York University (2007) and an MFA from University of California, Los Angeles (2015). Her work has been shown extensively in the United States and Europe, including presentations at MoCA, Los Angeles, California, Vleeshal Centre for Contemporary Art, Middleburg, Netherlands and Peep Hole, Milan, Italy. In 2015 Czudej received the Pirelli Prize, Art Brussels, Belgium; followed by the Fürstenberg Fellowship, Heiligenberg, Germany in 2017.
Myranda Gillies (b. Vermont) is an artist living and working in New York. She graduated from the School of the Art Institute of Chicago in 2010. Gillies works across disciplines with a focus on fiber arts, textiles and costume. Her work was exhibited at CLEARING (New York), Susan Inglett Gallery (New York), Jack Hanley Gallery (New York), and White Columns (New York), among others.
Miranda Fengyuan Zhang (b. 1993 Shanghai, China) lives and works in New York. Zhang has had solo shows at Capsule Shanghai (Shanghai), Mendes Wood DM (São Paulo; Brussels), Halsey McKay Gallery (New York), and Candice Mandy Gallery (New York). Other exhibitions include: Clearing Gallery (New York; Los Angeles) and Chambers Fine Art Gallery (New York). She has been the recipient of the La Maison de l'Art Contemporain residency in Asilah, Morocco and the Arquetopia Foundation in Oaxaca, Mexico.
Eric Oglander (b. 1987, Nashville, TN) is a self-taught sculptor whose practice is informed formally, structurally, and materially by his multifarious interests. Oglander's work has been exhibited at NADA NY, Deli Gallery, Patrick Parrish Gallery, Swivel Gallery, New Release Gallery, The Shed Space, and The Castle in New York; Poem 88 in Atlanta, GA; The Fine Art Museum at Western Carolina University; Institute 193 in Lexington, KY; Soho Revue Gallery and Cob Gallery in London, UK; NADA x Foreland in Catskill, NY. Oglander has also worked as an assistant to American sculptor Robert Gober for several years.
Megumi Shauna Arai (b. 1989 Portland, Oregon) is a Japanese-Jewish artist based in New York. Arai's work has exhibited as part of Object & Thing At The Noyes House, in collaboration with Mendes Wood DM and Blum and Poe (2020), The Gallery at Stone Barns curated by Object & Thing in collaboration with Stone Barns Center (2021) and Object & Thing at Madoo: Megumi Shauna Arai and Frances Palmer (2022).
Aislinn McNamara (b. United Kingdom) holds a BFA from the Ruskin School of Drawing, the University of Oxford (2011), and an MFA from Städelschule, Frankfurt am Main, in the class of artist Judith Hopf (2016). Her work has been shown in galleries and museums in the United States and Europe. McNamara has performed at the Montreal Biennial, Montreal, Canada (2016); Portikus Gallery in Frankfurt am Main, Germany (2013), and at reputable and "unmentionable" establishments in Los Angeles and New York. In 2022, McNamara presented a solo exhibition at Mieko Meguro's 3A Gallery in New York. Her drawings and writing are included in the anthology Sibyl's Mouths, published by Sternberg Press (January 2023). Her works are in the collection of the Embassy of Ireland, New York and private collections in the USA and Europe.