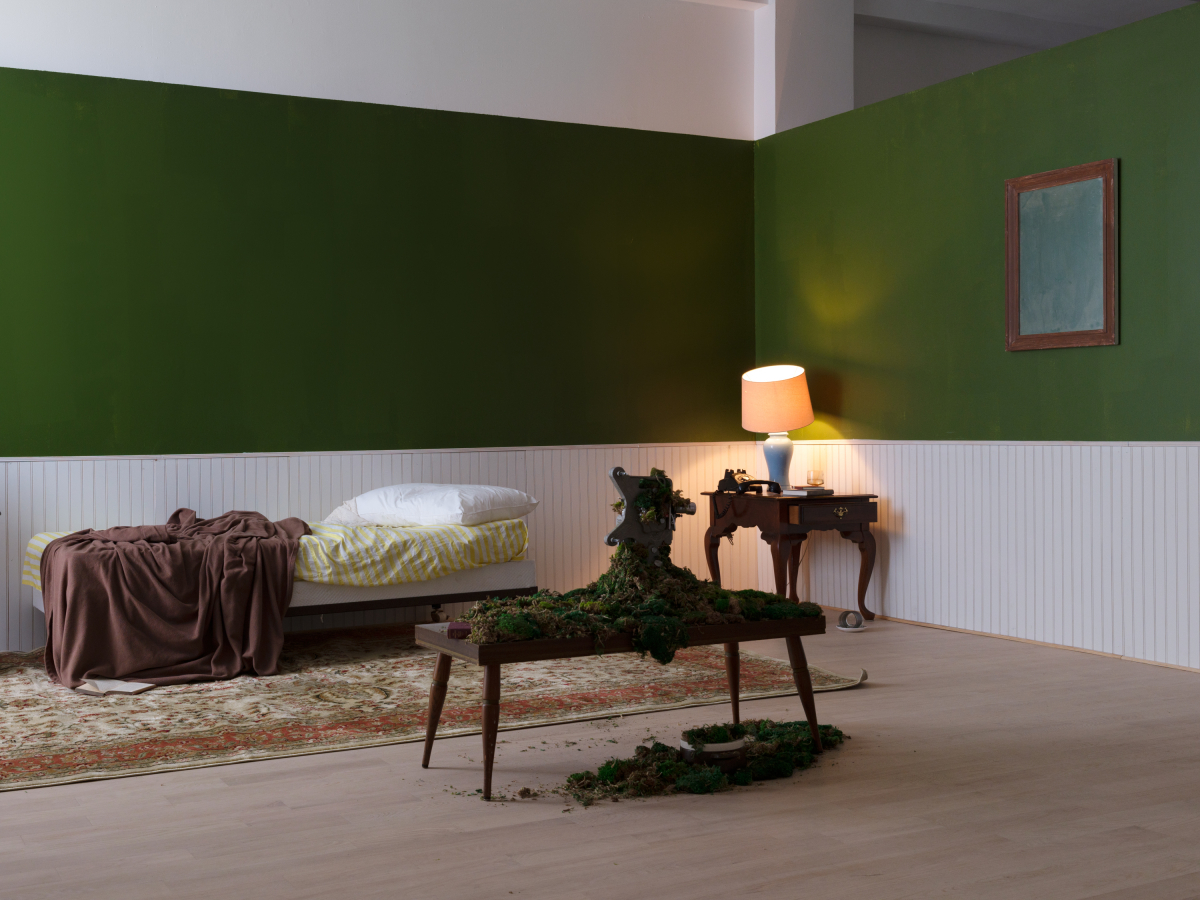 Management is pleased to announce Your absence is my monument; When your being was my everything, Merik Goma's first solo exhibition in New York. In his photographic practice, Goma saturates images with a profound Jungian and quotidian symbolism that impedes direct interpretation in favor of divergent narrative possibilities addressing the phenomenological experience of grief and loss.
Goma's practice involves building tableaux with spatially and temporally ambiguous narrative constructs populated most often by a single protagonist. With close attention paid to color and lighting, the images captured within Goma's meticulously assembled sets become psychological vessels charged inexplicably with both stillness and yearning. The exhibition includes four chromogenic prints from the Your Absence is My Monument series, and a site-specific installation that will be the setting for several performances.
The Your Absence is My Monument series grows out of the artist's experience of losing his close friend and his grandmother in succession, leading him to meditate on the existential nature of absence as presence. The photographs in this series, named after an eponymous poem by the artist, are dramatically lit scenes inhabited by a single wistful subject surrounded by objects that allude to the hypnagogic nature of the environment. Using found antiques and effigies permeated with varied histories for his sets, Goma constructs a metaphysical space that is at once intimate and solitary. This space is imbued with the same kind of anxious Sartrean nothingness, the presence of absence which resides in the mirror, the cage, the photograph, the rope, the suitcase, the mattress, and the shadow.
The exhibition is accompanied by a series of performances with the following schedule:
First performance: September 5th during opening.
Second performance: September 22nd at 5 PM
Third performance: October 13th at 6.30 PM
Merik Goma (b. 1987, in Manistee, MI) is a New Haven-based photographer and alumni of the NXTHVN Studio Fellowship Program, an arts incubator. His work has been shown by Tilton Gallery, and is in the collection of 21C Museum, Yale University Art Gallery, and the Detroit Institute of Art. Goma represented Connecticut in the New England Triennial at DeCordova Museum, is a FY21 Connecticut Artistic Excellence award recipient and was selected as the Joyce C. Willis Artist in Residence by the Amistad Center for Arts & Culture at the Wadsworth.